G Suite
G SUITE
Tools to empower your business to build what's next
AKC WORLD Pvt. Ltd is a premier partner in India for G Suite. In addition to selling Google products for the same price that Google does. We offer you the service to make your experience of going Google a positive one.
ACCOUNT SETUP & MIGRATION
MANAGEMENT & TRAINING
INTEGRATION & TRAINING
ACCOUNT SETUP & MIGRATION
MANAGEMENT & TRAINING
INTEGRATION & TRAINING

Sites
Collaborate in the most engaging way possible! Create high-quality sites and use it as your information center for your next project or event.

Drive
Drive allows you to store your files in the cloud, share with anyone, and have access to them from anywhere in the world.

Hangouts
Connect via text chats, voice calls or HD video calls with built-in screen sharing.

Docs
Forget Software installs or maintenance! Word processing for teams on the go!

Sheets
Power up your data analysis with fast, online spreadsheets.

Forms
Quick and easy way to create custom forms for surveys and questionnaires.

Google Plus
Private & public social profile. Limited version of company intranet. Audio/ Video & text sharing.

Google Contacts
Organize contact information about the people you communicate. Real time Sync with smartphones

Gmail
Professional ad-free email for your business.
Kindly fill up this form to know more about
G Suite
GET A FREE QUOTE FOR G SUITE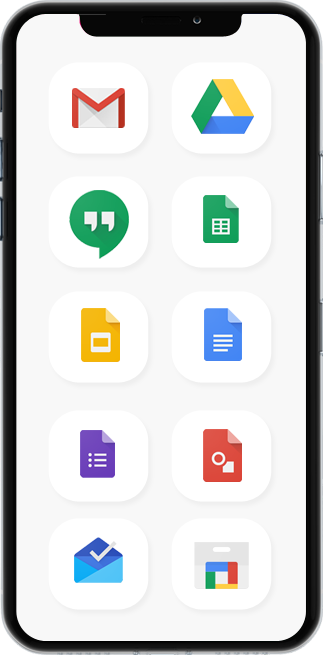 All the storage you
From 30 GB online storage per user to unlimited storage at minimal costs with the option to pay yearly or monthly.

Work together from anywhere
Do not let outdated technologies limit your power to collaborate. G Suite is a set of 100% cloud (or browser) based applications, hence, works seamlessly from any browser, desktop, mobile device or tablet.

Security with advanced admin controls
One centralized admin console to manage users and control security with 2-step verification and single-sign-on (SSO).

Brand your business email
You get to use your business's brand with your email with your very own set of email addresses with you domain name, as well as branding the interface with your logo.

Ample cloud-based storage
You each have 30GB of online storage for your email, documents and photos. This gets shared among the different tools within the suite, but can be great for keeping your email and shared documents in the cloud.

Keep your devices in sync
You can use IMAP to keep your inbox in sync across all of your devices including your computer, mobile devices, tablets and the web. Applications such as Apple Mail and Microsoft Outlook support Google's IMAP settings.
GET A FREE QUOTE FOR G SUITE